Easing the Journey Over the Rainbow Bridge
At Main Street Veterinary Clinic, we know that it can be difficult to talk about end-of-life care for your cat or dog. We want you to know that we are here to support you and your pet during this difficult time. From questions about knowing when it is time or what to do to alleviate pain, our veterinary team is here to provide compassion and guidance throughout the process.
End-of-Life Care
We will treat your pet with dignity no matter what stage of life they are in, but we provide even more care and compassion at the end of their lives. We sympathize and have experienced pet loss ourselves, and we want to make this process as pain free for the patient and the client as possible. Our top priority is always the patient and their quality of life. As your pet progresses towards end-of-life, they may feel pain or discomfort. We can discuss palliative care options with you, such as pain management, to allow your pet to live out the rest of their days as comfortably and happy as they can. Palliative care may even allow them to experience an increase in energy for a short time, so they can enjoy their favorite toy or favorite walk just a bit more before it is time to cross the rainbow bridge.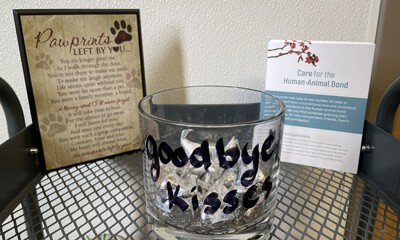 Customized Experience
Main Street Veterinary Clinic has a separate entrance and exit with a dedicated euthanasia room so you do not have to enter the lobby in front of other clients during this difficult time. We can tailor the experience to your needs and encourage you to discuss with our team any personal items you would like to bring with you.
Our dedicated room includes:
A rocking chair
More seating for loved ones
A cart with pet treats
Chocolate kisses
Bottles of water
If you choose, we are able to preserve the memory of your cat or dog with a sample of their hair or a paw print impression. We can discuss options for what to do with your beloved pet's remains.
To learn more about end-of-life care or to discuss what may be best for your pet, please contact us or request an appointment online.